Description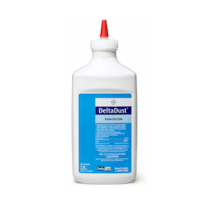 DELTA DUST  is a waterproof insecticide dust, so it works in the damp places that insects hide. This makes Delta Dust an ideal treatment for around plumbing, and crack and crevice treatment. Delta Dust should be applied with a Pest Pistol hand duster (sold separately) which allows you to easily apply the dust in hard to reach areas. One application of Delta Dust will keep on killing insects for up to eight months.
Approved for use in commercial food-handling establishments
Kills crawling insects for up to 8 months when left undisturbed
For use indoors and outdoors
Delta Dust should not be the only product used in the fight against bed bugs as it does not kill quick enough. For best results, use a contact kill such as Sterifab or a strong residual like Alpine WSG in addition to Delta Dust.
Not for Sale in NY.